Electrocuted Cambridgeshire lorry driver 'to be awarded millions' in compensation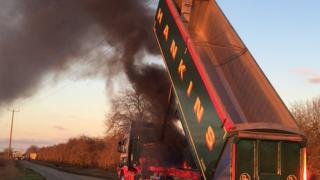 A lorry driver who was electrocuted when overhead power lines coursed through his trailer can expect to be paid millions of pounds by his employer in compensation, his lawyers said.
Gary Chisholm, 45, from March, Cambridgeshire was cleaning his trailer in a lay-by when he suffered severe burns and a spinal fracture and later required his right leg to be amputated.
A High Court judge found D&R Hankins had committed safety breaches.
He said D&R Hankins were 75% to blame.
The amount of compensation has yet to be determined but Mr Chisholm's lawyers valued his claim at about £4m.
In February 2016 Mr Chisholm was driving a Scania R440 tractor unit with a tipper trailer when he pulled into a lay-by on Block Fen Drove in Mepal.
London's High Court heard Mr Chisholm raised the vehicle's trailer, and the top "rose close to, or [came] into contact with" 11kV electrical power lines.
He suffered injuries of "great severity" to his lower limbs, stomach and right arm, and later had his right leg amputated below the knee.
Judge Jeremy Johnson QC guaranteed he should receive substantial damages from his then employers, March-based hauliers D&R Hankins (Manea) Ltd.
Employee 'had similar accident'
He said the company's health and safety breaches were 75% responsible for Mr Chisholm's accident after it was found to have no specific risk assessment for the dangers involved in cleaning out lorries on the highway.
"I find that Mr Chisholm was never told that he must not tip his trailer when cleaning it out," he said.
He added, had Mr Chisholm been clearly instructed not to raise his trailer during cleaning, he would have obeyed.
"I am therefore satisfied that Hankins' breaches of duty were a material cause of his accident. Hankins breached its duty of care to Mr Chisholm," Justice Johnson continued.
The court heard the firm also failed to implement and enforce safe systems of work in respect of those tasks, "even after another employee had a similar accident."
However, he ruled the overhead lines were "highly visible" and Mr Chisholm could not escape all responsibility for his own misfortune and reduced his damages by 25%.