New funding of £100m for children's hospital for East of England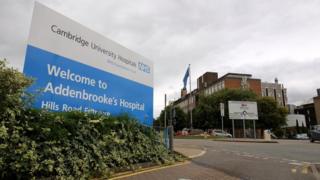 Funding of £100m for a new children's hospital to help young people with physical and mental health problems in the East of England has been announced.
The NHS specialist hospital will be built near Addenbrooke's Hospital in Cambridge.
The new money was announced on the day the government revealed how millions of pounds for projects in the East had been allocated.
The funding includes £18m for the East of England Ambulance Service (EEAS).
The children's hospital aims to bring together some of the world's top scientists to explore new ways of diagnosing and treating some of the most challenging diseases of childhood.
The project is a partnership between Cambridge University Hospitals NHS Foundation Trust and Cambridgeshire and Peterborough NHS Foundation Trust (CPFT).
Tracy Dowling, chief executive of CPFT, said: "Physical and mental health services are intrinsically linked and this is the most incredible opportunity to bring them under one roof for the benefit of young people and their families."
Funding has also been announced for:
New bases with improved facilities for EEAS crews including on-site vehicle workshops (£18m)
The expansion of Hinchingbrooke Hospital (£25.5m)
The redevelopment of the emergency department at West Suffolk Hospital in Bury St Edmunds (£13.4m)
Additional Bed Capacity at Princess Alexandra Hospital in Harlow (£9.5m)
Improvements to fire safety at Addenbrooke's Hospital (£19.2m)
More treatment space and improvements to the emergency department at Watford Hospital (£11m)
A stroke rehabilitation unit to serve Bedfordshire (£766,000)
A Hertfordshire and West Essex Vascular Surgery Network (£7.1m)
A new Pathway Unit at Milton Keynes University Hospital to focus on improving integrated access to primary care, community and mental health services as well as social care (£9.9m)
Health Secretary and West Suffolk MP Matt Hancock said: "We want even more patients to receive world-class care in world-class NHS facilities.
"The new funding for the East of England will ensure local residents receive the best emergency care."