Lesley Garrett calls on King's College choir to admit girls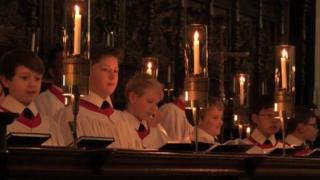 An opera singer has called on an all-boys' choir to include girls for the first time in its 100-year history.
Lesley Garrett said King's College Choir in Cambridge was "a throwback to a bygone age" and claimed it was "cruel" to exclude girls because of their gender.
In an article for the Radio Times, the singer also said all-boys' choirs were "an excuse to hand on male privilege".
A spokeswoman for the college said women were "equally valued" in choirs.
Female voices often feature in the King's College line-up but Ms Garrett is calling for them to be included in the Festival of Nine Lessons and Carols service, which is a performed on Christmas Eve and broadcast by the BBC.
A King's College spokeswoman said the traditional service was "part of Christmas for millions of listeners and viewers across the globe".
"This has given the boys' choir a higher profile than our other choirs, especially in this centenary year," she said.
"However, women play an equally valued role in Cambridge, in our mixed voice choirs King's Voices and King's Junior Voices.
"We are constantly looking to improve and develop all that we do in the Chapel and give serious attention to all the relevant debates and issues that emerge."
'Revered'
Anna Lapwood, director of music at Pembroke College, said there was "no doubt we need to generate more opportunities for girls in choral music" but stressed that this should be in addition to the ones available to boys.
Ms Lapwood, who also presents Classical Cambridgeshire on BBC Radio Cambridgeshire, added: "Research has shown that boys sing better in an all-male environment," she said. "If we were to mix the treble line, the boys would lose confidence. It's not a huge step from losing confidence to giving up.
"Losing boy choristers completely is something I feel would be a great loss for both the choral world and the wider world of classical music."