Witchford Village College: Fake GCSE grade principal banned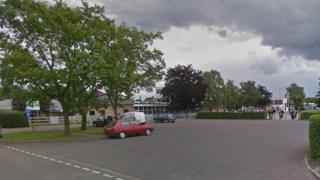 A school principal who created false documents about two pupils' GCSE results has been banned from teaching for life.
Christopher Terry worked at Witchford Village College, Cambridgeshire, when he produced a letter for one pupil and a printout for another.
Both documents incorrectly claimed the pupils had had their English language exam results regraded from a D to a C.
A misconduct panel found his deceit had a serious effect on their education.
The false claims were made by Mr Terry, who resigned for "personal reasons" in December 2017, following a complaint by the mother of one of the two pupils, known as Pupil A.
'Continually reassured'
According to the Teaching Regulation Agency report, Mr Terry "failed to adequately respond" to the complaint, which concerned the girl's exam results.
The report said he had "continually reassured" the pupil and her mother that "he would be able to sort the problem" of her examination results, when in fact he was not trying to, and falsely informed them the grade had been changed.
Mr Terry, 47, admitted to the panel he had produced his own signed document on the college's headed paper for the purpose of supporting her university application.
Similarly, in relation to the other pupil, known as Pupil B, he informed both him and his parents the grade had been changed when this was not the case.
He also admitted amending school records to reflect a grade C, and provided "a copy of the report for Pupil B and his family to rely on to evidence a grade which Pupil B had not achieved".
The panel found his actions had had a "serious impact... on the ability of the pupils concerned to retake their examinations at the appropriate time and the serious subsequent effect on their educational progression and future careers".