Woman attacked at Northampton McDonald's drive-thru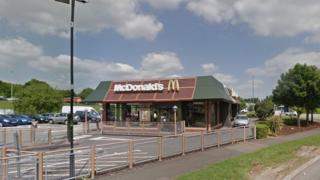 A woman was hit around the head with a walking stick after using the wrong lane at a McDonald's drive-thru.
A super-sized flare-up ensued when she tried to apologise to another driver and was attacked by two women, police said.
She was hit with the stick amid the fracas outside the US fast food firm's Riverside branch in Northampton.
The 35-year-old victim needed hospital treatment for swelling to her head but was later released, police said.
The two offenders, who were in a light blue Ford Focus, were described as white and aged in their 30s.
A Northamptonshire Police spokesman said the driver was about 5ft 7in (1.7m) tall with long brown hair.
The second woman was 5ft 5in (1.6m) with blonde hair and carried a walking stick.
Witnesses to the attack at about 14:00 GMT last Wednesday have been asked to contact the force.