Ruby Tyers death: Girl, 2, fell in river 'unseen'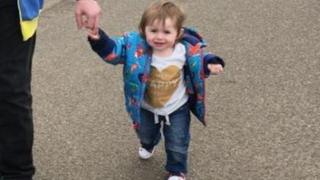 A two-year-old girl died after falling into a river "unseen", an inquest has heard.
Ruby Tyers "dashed away" from a charity fun day and went into the River Nene in Peterborough on 3 September 2017.
Despite being rescued from the water and given CPR, she died in hospital the next day, Huntingdon Law Court was told.
Cambridgeshire assistant coroner Simon Milburn concluded Ruby's death was a "tragic accident".
The inquest heard Ruby's parents were working on a stall at Key Fest, near the riverbank, when she disappeared.
A woman carrying out surveys at the event "became aware that Ruby had gone missing" before getting in the water to retrieve her, the hearing was told.
She was given treatment at the riverbank, but one witness said that they could find "no pulse".
Ruby died at Addenbrooke's Hospital in Cambridge at 08:51 BST on 4 September.
A post-mortem examination said the cause of death was pneumonia from cardiac arrest after submersion in water.
Despite appeals and extensive media coverage, "no eyewitnesses have come forward seeing her near the water or falling in", senior investigating officer Det Insp Ian Bailey said.
The investigation had not identified any third-party involvement in Ruby's death, he added.
Mr Milburn said that it was "difficult to see" what reasonably could have been done to the safety around the river.
Her mother Wendy Gray added: "It's a working river.
You may also be interested in:
"There was a narrow boat there 15 minutes beforehand. Had it still been there it wouldn't have happened."
Mr Milburn offered his "sincere condolences" to the family and said it was "difficult for any of us to imagine how hard this has been".