Phone box gets festive Santa makeover in Prickwillow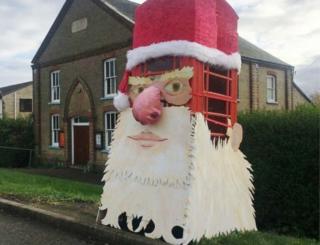 Father Christmas has made an early appearance in a village in Cambridgeshire - disguised as a phone box.
A defunct telephone kiosk in Prickwillow has been given a festive makeover with a white beard, bulbous nose and large red hat.
Previous Christmases have seen the box wrapped as a present, a chimney pot and also transformed into a bauble.
Artist Cary Outis said he hoped this year's design would "bring a smile".
The box, on Prickwillow's Main Street, has been decorated by members of the Ouse Life Drawing Group since it was bought for the village in 2010.
Since then it has been wrapped as a giant Christmas present and disguised as a chimney pot with a sleigh on top.
In 2014, artist Jane Frost created a giant woven willow Christmas bauble, which she admitted was "not meant to be tasteful".
Mr Outis, who has been involved in seven of the creations, said that "local residents are nowadays curious to see what'll happen come December and often offer help or hoot their horns as it's going up".
He added that "using different materials in different varieties of wild and freezing weather meant the beard and face had to be plywood, and the hat needed to be as non-absorbent as possible".