Courier jailed over Linton hit-and-run death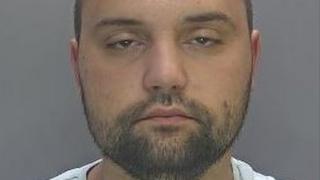 A courier who killed a motorcyclist in a hit-and-run but told his employers he struck a deer has been jailed for 14 months.
Father-to-be Mathew Smyth, 25, died after Ricardas Taraska, 23, of Norwich, pulled out into his path on the A1307 in Cambridgeshire on 29 August.
Cambridge Crown Court heard it was "inconceivable" not to have known he hit Mr Smyth but he fled the scene.
Taraska admitted causing death by careless driving.
The court was told that Mr Smyth had been at his girlfriend's home in Withersfield, Suffolk, and left at about 03:00 BST.
He was heading home towards Duxford when Taraska, who had been delivering parcels, pulled out of the Dean Road junction near Linton and hit him, despite having about 10 seconds to see him.
The court heard it was likely Mr Smyth - whose father was killed in a motorcycle crash when he was seven - died at the point of impact.
Fragments were recovered that linked the crash to a Mercedes Sprinter van and police traced it to Roadrunner Express couriers in Norwich, Taraska's employers.
Taraska initially claimed to his boss the damage to his van had come from a deer, but during a police interview said he had seen the motorcycle indicating to turn into the road he was on and pulled out.
He said he "heard a bang" but that he "didn't think it would be the motorcyclist".
Prosecutor Marti Blair said there was no evidence to suggest the motorcycle was signalling left at the time of the collision.
She added that Mr Smyth would have been thrown onto the bonnet of the van and there would have been wreckage on the road, making it "inconceivable that he couldn't have realised he had hit a motorcyclist".
Mitigating, Mark McDonald said Taraska had an "unblemished lifestyle", no previous convictions and "accepts total fault and blame" for the death.
Sentencing, Judge David Farrell QC said Taraska, of Pinder Road, drove off "leaving him in the road and, for all you knew, dying from his injuries".
He called it a "grossly irresponsible act".
Taraska was also disqualified from driving for two years and seven months.