Jail for woman who blackmailed man with sex video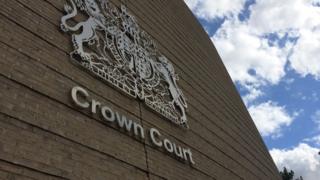 A woman who tried to blackmail a man for £2,000 with a sex video has been jailed for three years and 11 months.
The woman, 20, who cannot be named for legal reasons, forced her victim at knifepoint to drive to his flat and collect £600 towards her demand.
The "vulnerable" woman pleaded guilty at Cambridge Crown Court to blackmail and possessing a bladed weapon.
Her co-defendant Ross Olphert, 29, of St Neots, pleaded guilty to blackmail and was jailed for 31 months.
'Dashcam audio'
The woman met her victim in 2013 at a sex party and afterwards he regularly paid her for sex, prosecutor Daniel Benjamin said.
On 3 August, she and Olphert threatened to send a video of him having sex with her at the 2013 party to his parents and colleagues.
Mr Benjamin said the woman threatened him with a knife and the victim agreed to collect £600.
The 30-minute journey was recorded on his car's dashcam.
Olphert could be heard punching the victim in the head, and the woman held a knife to the man's throat, the court heard.
Claire Matthews, defending the woman, said was she vulnerable, known to social care services, with poor mental health and a pattern of suicidal impulses.
Olphert's barrister Benedict Peers said he was a senior care worker who used his experience of mental ill health, including ADHD and bipolar disorder, to help others.
Olphert believed he was "just looking after" the woman, whom he thought was owed money, the court was told.
The woman was sentenced to three years for blackmail and use of a bladed weapon in a public space.
The additional 11 months are from a suspended sentence for a previous stabbing, to run consecutively.