Cambridge: Fitzwilliam Museum to exhibit Rossetti work after 150 years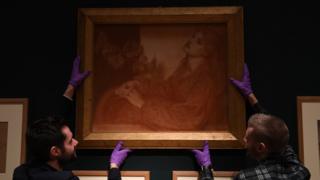 A "priceless" Dante Gabriel Rossetti artwork, bought from an Edinburgh second-hand bookshop for £75, is going on display for the first time.
Cambridge's Fitzwilliam Museum is exhibiting an 1868 chalk drawing by the British pre-Raphaelite artist.
Ricorditi Di Me, Che Son La Pia will be on show from 4 December.
Rossetti used the model Alexa Wilding, whom he first met in the street, in the preparatory study for a painting he completed in 1881.
A museum spokesman said he could not estimate the current value of the drawing it is about to display, but said it was "priceless to us".
Another of Rossetti's chalks, Proserpine, fetched more than £3m at auction in 2013.
Ricorditi Di Me, Che Son La Pia was bought for £75 by Sir Ivor Batchelor, a professor at the University of Dundee.
He bought it at Robert Aitken's shop in Edinburgh in 1956 and it is part of a bequest he made to the Fitzwilliam in 2015.
In an essay, Sir Ivor wrote that it was "a red letter day" when he purchased the "very fine and very large drawing".
Henrietta Ward, assistant keeper for paintings, drawings and prints at Fitzwilliam Museum, said: "The fact he found it in the bookshop was quite a fluke."
Museum workers inspecting the piece found a typewritten note from Rossetti on the reverse.
It read: "This drawing not being 'set', it will require the greatest care if ever removed from its frame."
He used his better-known muse Jane Morris, wife of arts and crafts designer and writer William Morris, for the final painting, La Pia De'Tolomei, which is in the Spencer Museum of Art in Kansas, USA.
The Fitzwilliam exhibition, called Collecting And Giving: Highlights From The Sir Ivor And Lady Batchelor Bequest, features 86 objects from the overall collection of 461 items including drawings, bronzes, glass and pieces of English pottery.