MP Fiona Onasanya trial: Brother a 'charming chancer'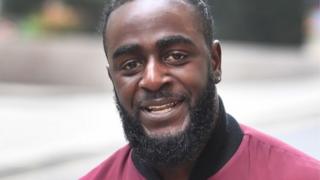 The brother of a Labour MP accused of lying over a speeding ticket is a "charming chancer", a court has heard.
Fiona Onasanya, 35, allegedly colluded with her brother Festus, 33, to avoid prosecution for driving at 41mph in a 30mph zone last July.
At the Old Bailey, her lawyer Christine Agnew QC said Mr Onasanya would manipulate anyone "to get out of hole".
Mr Onasanya, from Cambridge, admits three charges of perverting the course of justice. His sister denies one.
Previously, Ms Onasanya, who is MP for Peterborough, told jurors she assumed she was in Westminster at the time of the speeding offence on 24 July 2017 but could not rule out being the driver.
The court heard she left the notice of intended prosecution (NIP) at her mother's house in Chesterton, Cambridge, for whoever had borrowed her Nissan Micra to fill in.
Mr Onasanya assured his sister the NIP had been "sorted", but jurors heard a Russian man had been named as the driver, which inquiries later proved was a lie.
In a closing speech, Ms Onasanya's barrister Christine Agnew QC queried why the MP would "put everything at risk" for three penalty points.
"What's she guilty of? She's guilty of not completing the NIP properly. She's guilty of not asking her brother as many questions as she should have done," she said.
"She had no reason to suspect him and she had no reason to disbelieve him."
Ms Agnew also suggested the MP's brother had filled out the form as he "thought he could get away with it".
The court was told Mr Onasanya already had nine points on his licence and risked being disqualified from driving and losing his job as a delivery driver.