Clara Rackham: Blue plaque for Millicent Fawcett's 'right-hand woman'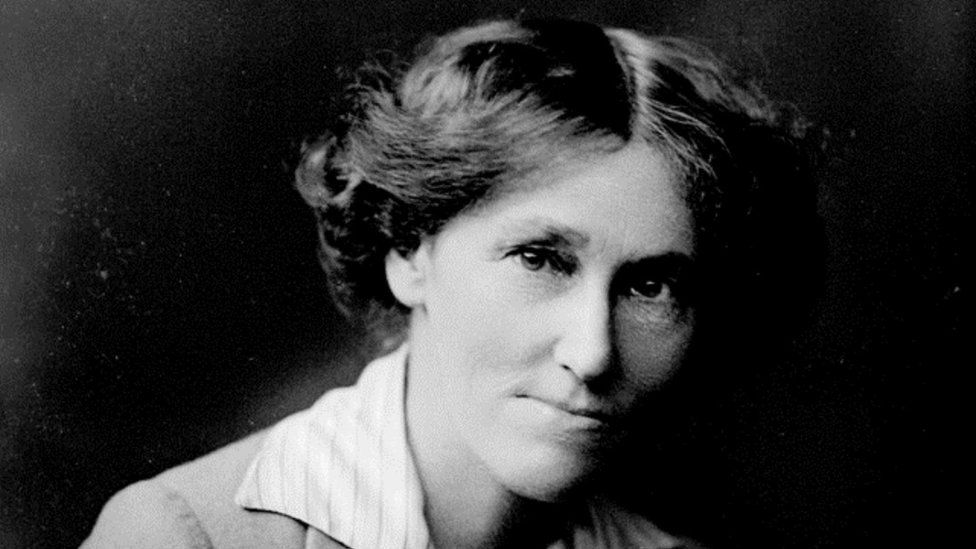 A "pioneering feminist" who was suffragist Millicent Fawcett's "right-hand woman" has been commemorated with a blue plaque.
Clara Rackham "effectively ran" the National Union of Women's Suffrage Societies (NUWSS) while Ms Fawcett was president, said professor Mary Joanou.
Mrs Rackham was also elected to Cambridge Town Council in 1919 and was sworn in as a magistrate in 1920.
The plaque has been unveiled at her former home on Park Terrace, Cambridge.
She was among the town's first women JPs [magistrate] and her great-niece Sarah Rackham said she was also a social reformer whose "commitment to... changing the world of working women was huge".
Ms Joanou, emeritus professor of literary history and women's writing at Anglia Ruskin University, said: "Clara was a wonderful pioneering feminist, shaped by the women's movement, who devoted her life to other people."
She was a penal reformer, a World War One factory inspector and campaigned for a 40-hour working week, the professor added.
She said the Labour town and county councillor was little known outside Cambridge because she spent her whole career there, where she was "the most important civic figure in early 20th Century Cambridge".
Mrs Rackham represented Romsey from 1929 and went on to chair the county council education committee, as well as fight for educational opportunities for adults.
She was also the chair of the NUWSS's executive committee between 1909 and 1915.
Clara Tabor was brought up in London and came to Cambridge in 1895 to attend Newnham College.
She met her future husband Harris Rackham and remained in Cambridge.
Sarah Rackham, who will be at the unveiling of the plaque on Tuesday evening, said: "My aunt was still politically active and took me on an Aldermaston march when I was 11 and she was 85."
She also remembers "an extremely loving great-aunt who read me stories and took me to swim in the river".
She hopes people will see the plaque and find out more about one of "the women who've got us where we are now".
Related Internet Links
The BBC is not responsible for the content of external sites.