Cambridge to host 'sustainable fashion' festival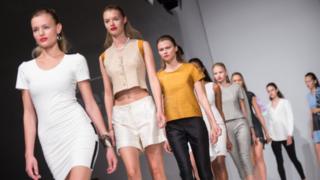 A sustainable fashion festival aimed at making clothes-lovers "aware of their choices" is being held later.
The event in Cambridge was inspired by a French organic lingerie designer who witnessed the pressures on the industry's suppliers.
Organiser Cambridge Carbon Footprint claims clothing accounts for about 12% of global greenhouse emissions.
Visitors will be able to swap clothes and get advice on recyclable fabrics and labels.
Sustainable fashion labels featured at this year's Berlin Fashion Week, and the London show also went "anti-fur" for the first time.
A growing number of fashion houses, stores and designers - including Stella McCartney and H&M - support the sustainability message.
Organiser Nicole Barton said: "The UK buys the most clothes in the whole of Europe, but we don't look any better. We want to make people aware of the impact of their choices; to find their own style in a sustainable way.
"Vivienne Westwood said 'Buy less, choose well and make it last' - we couldn't agree more."
Former fashion buyer Julie Kervadec, who founded organic lingerie firm AmaElla three years ago, will discuss her experiences of the demands on the fashion industry at the event.
"The problem is the way people consume," she said.
"At first the concept seemed so niche, but it is a process. People don't realise it takes 10,000 litres of water to produce one T-shirt out of conventional cotton.
"There is a lot of work to do but we are on a positive path."
Research collated by the Ellen MacArthur Foundation suggests that global clothing production has doubled in the past 15 years, with garments on average being worn much less and discarded quicker than ever before.