Spitting Image archives donated to Cambridge University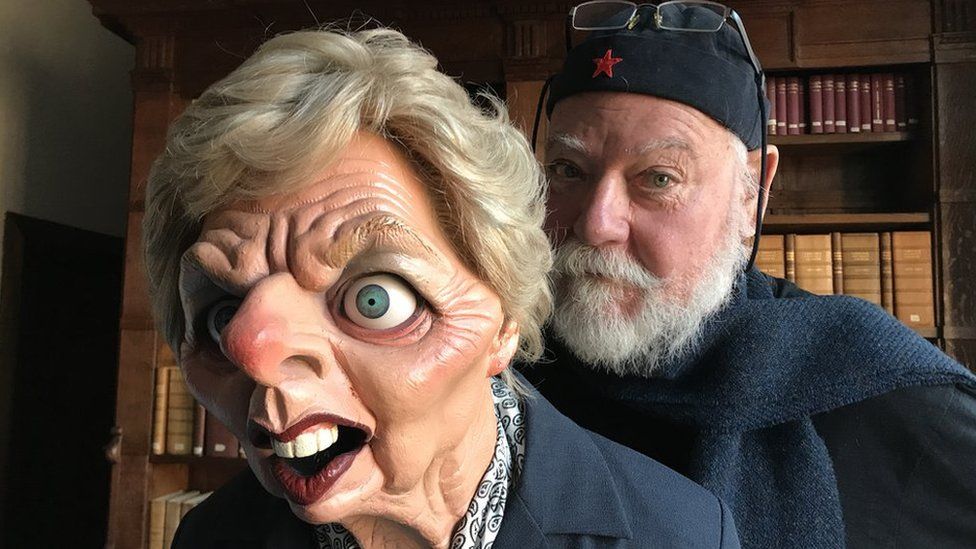 The co-creator of TV satire series Spitting Image is donating his entire archive to Cambridge University.
The collection - including original scripts, puppet moulds, drawings and recordings - will be conserved and held in the library.
Spitting Image parodied political leaders, celebrities and royals over 18 series, and was broadcast by ITV from 1984 to 1996.
Roger Law said the material would be "in the right place, it's come home".
Among the archives is a rubber puppet of former Prime Minister Margaret Thatcher, caricatured with a wide-eyed stare and prominent nose.
No-one in her cabinet or opposition was immune to the show's satirical scrutiny and exaggerated impressions.
The often-controversial programme also featured prominent sports stars and celebrities, as well as senior members of the Royal Family.
Much of the donated collection has been kept in boxes at Mr Law's home, or in "three sea containers out in the Cambridgeshire Fens".
Mr Law, who studied at the Cambridge School of Art and began his association with co-creator Peter Fluck in the city, said the university's library was the best place for the collection.
"I was hoping the banks of the Ouse would break and it would all go into the North Sea but this is better," he said.
"I also thought the show would die a death because no-one had done it before, I never thought it would be like a heater in the corner of the room, gently warming your knees.
"I knew people would react to it, like Marmite."
The body of donated work comprises every script from the show, including that of a 1985 pilot that was never broadcast.
There are thousands of visual images, as well as individual sketches, magazines and books and more than 400 videos.
The University's library is home to some of the world's most important public records, including the original work and correspondence of Charles Darwin, and the papers of Sir Isaac Newton.
Librarian Dr Jessica Gardner described the collection as a "national treasure".
"Spitting Image was anarchic, it was creative, it entered the public imagination like nothing else from that era," she said.
"It is an extraordinary political and historical record. Great satire holds up a mirror, it questions and challenges."
Mr Law's wife, archivist Deirdre Amsden, listed and organised every item in the donated collection over the course of five years.
Mr Law said he was not a fan of puppetry but it was a "means to an end".
"The great thing about Spitting Image was that there were writers, puppet makers and puppeteers but there were no stars," he said.
"You could say the things you wanted to say with knobs on with puppets - like Mr Punch.
"Puppets have no agents, they don't answer back, and you could put them in a cupboard. Great."
The anarchic show that pulled a punch - and 15 million viewers
Spitting Image was created by caricaturists Peter Fluck, Roger Law and Martin Lambie-Nairn
At its height it pulled in an audience of 15 million viewers
It was nominated for nine BAFTA Television Awards (winning two) and four Emmys in 1985 and 1986
Much of Margaret Thatcher's Cabinet was parodied, with Douglas Hurd depicted with "Mr Whippy ice cream" hair, and her successor John Major caricatured as a grey, dull puppet with a penchant for peas
World leaders were also stereotyped, with Mikhail Gorbachev's forehead birthmark redrawn as a hammer and sickle
The series was axed in 1996 because of declining audiences
Related Internet Links
The BBC is not responsible for the content of external sites.