RAF's only bomb disposal squad to be disbanded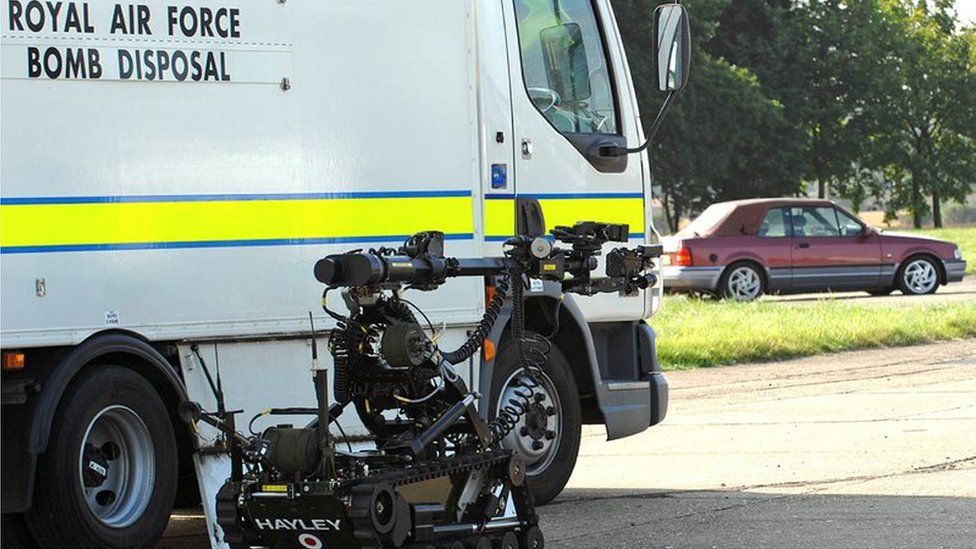 The RAF's only bomb disposal squadron is to be disbanded with the Army taking over its duties.
5131 Bomb Disposal Squadron was created 75 years ago and is based at RAF Wittering in Cambridgeshire.
An RAF spokesman said the closure was not a money-saving exercise but was about ending a duplication of effort with the Army's bomb disposal units.
Wittering Station Commander Gp Capt Tony Keeling said it "has lived by its motto, to make the harmful harmless".
The squadron will be phased out by April 2020 but no personnel will be made redundant.
Instead they will transfer their skills to other Air Force units.
The RAF's Explosive Ordnance Disposal Squadron was set up in 1943 to defuse German bombs and by 1945 it had made safe 176,000 weapons.
It took part in the Falklands War in 1982, clearing the runway at Stanley, and was one of the first units over the Iraq border during Operation Granby in 1991.
Gp Capt Keeling said: "For 75 years, the squadron has lived by its motto, to make the harmful harmless, in its operational role and the countless occasions in which it has assisted the civilian authorities to maintain public safety.
"5131 Bomb Disposal Squadron has served this country with bravery, honour and distinction and has maintained the best traditions of the Royal Air Force throughout its history."
Related Internet Links
The BBC is not responsible for the content of external sites.