'Military-like' east of England ram-raiders jailed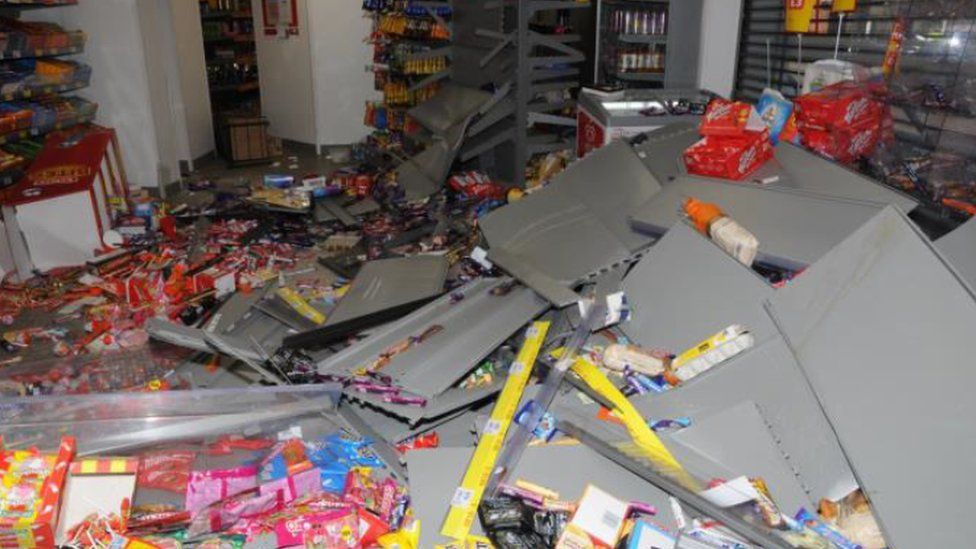 Two men who stole cash machines from rural shops in a "military-like" crime spree have been jailed.
Charlie Oakley, 26, and Tony Smith, 19, used stolen high-performance vehicles with false number plates to ram store fronts across the east of England.
About £200,000 was stolen in the raids but has not been recovered.
Both admitted conspiracy to burgle. Oakley, of Shefford, Bedfordshire, was jailed for six years, and Smith, of Willingham, Cambridgeshire, for five.
At Peterborough Crown Court, Judge David Farrell QC said the ram-raids "transcend the ordinary type of theft or burglary" and required "significant planning".
Prosecutor Stephen Mather said Oakley and Smith were part of a group which stole vehicles including Audis and Land Rovers, using false number plates to avoid detection.
The gang would use one vehicle to ram the store, before attaching an industrial strap stolen from a crane hire company to the machine.
After dragging the ATM out of the shop, they would use another vehicle to make their getaway.
Mr Mather said the group came armed with sledgehammers and bars.
Oakley and Smith were involved in ram-raids in April at Cambridgeshire Co-Ops at Fulbourn and Isleham and at the One Stop in Feltwell, Norfolk.
In addition, Oakley, of George Street, was part of a group which targeted a store in Finedon, Northamptonshire, on 4 April, while Smith, of Cadwin Field, admitted being present at an offence in Long Bennington, Lincolnshire, in March.
The pair were caught alongside a 17-year-old boy, who will be sentenced at a later date, after the raid at Isleham.
They fled from police in a stolen Audi, which was found abandoned in Godmanchester.
They were caught on CCTV fleeing on foot.
Judge Farrell QC said: "The impact on the public [of the ram-raids] is significant. It is truly an outrageous offence.
"It is a major inconvenience where the target was a village shop in more remote, rural locations where residents were deprived of the shop while it was repaired."
He said elderly people would have been particularly affected "as an indirect consequence of these defendants' criminal activity".
Judge Farrell added that the raids were "carried out to almost military-like precision".
Related Internet Links
The BBC is not responsible for the content of external sites.