Oxford-Cambridge Arc homes plan 'threat to countryside'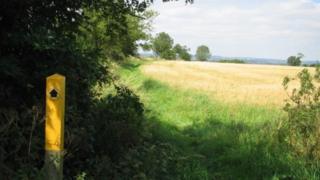 A Birmingham-sized area of countryside could be lost if plans for a million homes are approved, campaigners claim.
The stretch of land, dubbed the "Cambridge and Oxford Arc", has been earmarked for the developments with a target completion date of 2050.
Campaign to Protect Rural England (CPRE) chiefs said it "would change the face of England's countryside."
The National Infrastructure Commission (NIC) said it would "not compromise the high quality natural environment".
According to the CPRE, the proposal would result in the loss of 67,000 acres (27,000 hectares) of farmland and woodland,
It has said analysis shows there is capacity for just 50,000 houses on previously developed or brownfield land within the arc.
There are some 230,000 homes already proposed or being built in the area, it said, so meeting the one million target would require a huge boost to building.
It claims most would be built on open countryside.
The development could damage environmentally rich areas such as Bedfordshire's Greensand Ridge, the Midvale Ridge and the Upper Thames Clay Vales, said the group.
Paul Miner, from CPRE, said: 'If given the green light, this development will change the face of England's countryside forever."
A spokesman for the NIC said: "Our recommendations come with the clear condition that new schemes should not compromise the high quality natural environment for existing and future residents, and do not need to involve any changes to existing Green Belt protections."
Communities Secretary James Brokenshire MP said: "Building the homes our country needs does not mean tearing up vast tracts of our countryside.
"The Oxford-Cambridge Arc is an opportunity to further strengthen rural economies, enhance the environment and benefit local communities."