Buck gets tangled in electric wire in Cambridgeshire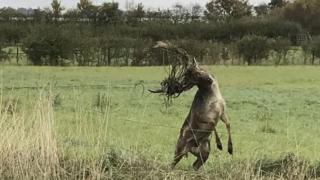 A four-hour rescue was needed to help save a "distressed" buck which got its antlers and throat entangled in electric wire, the RSPCA said.
The animal was "thrashing around" after getting trapped in Great Abington, Cambridgeshire, and was sedated because it was "too dangerous" to get near it.
Once cut free, with the help of vets and three firefighter crews, the buck ran back off into the wild.
Jane Folly, from the RSPCA, said the young stag had no serious injuries.
'Great teamwork'
The RSPCA said that the rescue, on 17 October, "saved the life" of the powerful animal.
Animal welfare officer Ms Folly added: "He was a beautiful large fallow buck with a full set of antlers. It was a wonderful sight to see him run free again.
"We are so grateful to everyone involved in the rescue; there is no way we would have been able to carry out this on our own."
A spokesman for Cambridgeshire Fire and Rescue Service said: "Working together with the RSPCA officers and the vets, firefighters were able to release the stag's antlers from the fence once he was safely sedated.
"This was a great example of teamwork with a very successful outcome."