Cambridge University rugby player denies attempted rape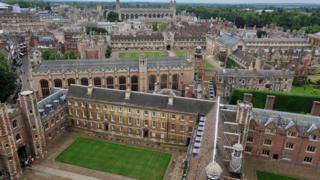 A Cambridge University rugby player tried to rape a fellow student he met during Freshers' Week, a court heard.
Oluwadamilola Erogbogbo, 23, was in the room of the woman, who cannot be named, when a friend outside heard her say "no, no, no, get off me", jurors heard.
Cambridge Crown Court was told a friend went into the room and saw Mr Erogbogbo, of Kiln Place, Camden, naked and on top of the woman in 2015.
He denies attempted rape and sexual assault.
The court was told Mr Erogbogbo, also known as Lola, and the woman had slept together before during Freshers' Week in early October but she "distanced herself from him" after feeling "pressured" during their second encounter.
Prosecutor Georgina Gibbs said the pair did not see each other again until 5 November 2015 when they had a "blazing row".
Miss Gibbs said the woman and a friend went back to their accommodation but en route, Mr Erogbogbo was calling and messaging her "quite a bit".
He eventually went to her room "uninvited", Miss Gibbs said, before he "completely undressed himself unprompted and pushed her on to the bed".
Miss Gibbs said he tried to kiss the woman and climbed on top of her but she told him, "No, please don't", and that she was on her period.
She said he then allegedly told the woman "it's fine, it's not a problem", and tried to take out her tampon before she "smacked him".
At that point the friend came into the room and got Mr Erogbogbo to leave, but he sat outside for some time, calling the woman a number of times before eventually leaving, Miss Gibbs added.
Mr Erogbogbo was arrested in June 2016. In a prepared statement at interview he said: "I have not attempted to rape anyone."
Mr Erogbogbo represented Cambridge University in the Varsity match against Oxford in December 2016.
The trial continues.