Stewart Jackson 'unkind and nasty' for child tweet says Heidi Allen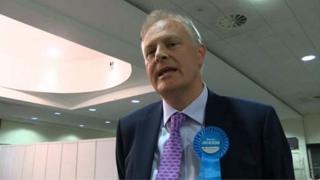 A former MP has been called "unkind and nasty" by a sitting MP for tweeting comments about a child pictured in his hospital bed beneath an EU flag.
The boy's stepfather posted the image on Twitter, saying the boy was "gutted" not be on Saturday's anti-Brexit march.
Stewart Jackson, a pro-Brexit former Tory MP for Peterborough, called the stepfather's tweet "awful".
Heidi Allen, Conservative MP for South Cambridgeshire, tweeted and called him "a pathetic, unkind and nasty man".
Anthony Hobley, who supported the People's Vote march in central London as part of a campaign to call for a second referendum on Britain leaving the EU, tweeted pictures of his 11-year-old stepson in Great Ormond Street Hospital where he was having an operation for a broken collar bone.
The tweet said he had had an operation and "he's incredibly brave but gutted he can't be at the #PeoplesVoteMarch today".
Mr Jackson, who lost his Peterborough seat to Labour in 2017, had been on David Davis's team at the Department for Exiting the European Union until Mr Davis's resignation as Brexit Secretary in July.
In his initial response to the tweet on Monday, Mr Jackson wrote, "What a pathetic cretin", although this has since been deleted.
He then tweeted a reply which said: "What sort of individual invades their sick child's privacy at a sensitive time to make a political point about the so called Peoples Vote? Really. Awful."
'Schoolyard abuse'
His comments have provoked criticism, with Mr Hobley calling for an apology for what he called "trolling by senior political figures" which involved children.
He said: "Comments like these from senior people in political life set the tone of political debate in our country and I believe harm politics in our country."
Mr Hobley said people should "debate the facts and issues" rather than resort to "schoolyard abuse".
Wes Streeting, Labour MP for Ilford North, said: "@BrexitStewart this is beneath you. You should delete it and issue a grovelling apology."
Charlotte Salomen, a young Conservative activist, told BBC Radio 1 Newsbeat: "This is a bigger problem than I think many MPs realise. This nastiness is trickling down on to activists, who are the front line of politics online."
Some others suggested Mr Jackson's tweets were not aimed at the child - "anyone could see its aimed at the parent, not the child", said one, while another said, "using sick kids to virtue signal will never sit well with me".
The BBC has contacted Mr Jackson for a further response.