Cambridge car park crushed death woman 'grabbed barrier'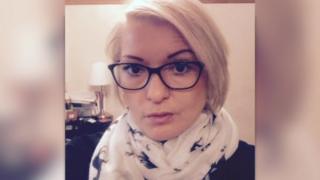 A woman crushed by a car park shutter's mechanism had voluntarily grabbed on to it, an inquest heard.
Heidi Chalkley, 40, died after after her hands got caught in the door to the underground car park of Ruth Bagnall Court, Cambridge, in August 2016.
A man who lived in the building tried to help by lifting Ms Chalkley up, but she died at the scene.
Her friend Susan Gilmore, who witnessed the incident, said it all happened "in a matter of seconds".
She and social worker Ms Chalkley had been heading out for the night at about 19:25 BST on 14 August 2016.
The women had just dropped Ms Gilmore's car off at her home and walked towards the barrier rather than building's the internal doors because they "planned on going straight into town".
In a statement read at the inquest in Huntingdon, Ms Gilmore said: "As it went up, Heidi said to me: 'Have you ever held on to it as it goes up?' I said 'no'.
"She then reached up, held the shutter and it lifted her off the ground."
Ms Gilmore said she thought her friend would let go but "she started to panic as her hands got caught in the barrier".
"Everything happened really quickly, in a matter of seconds," she added, recalling that Ms Chalkley's body appeared "folded".
In a statement, neighbour James Spitale said he saw a woman hanging about 3ft (90cm) from the ground at the entrance to the car park.
He said: "My immediate thought was to grab her and lift her up. I hoped it would allow her to breathe."
Paul Arnold, a specialist electrical inspector with the Health and Safety Executive (HSE), said that if the door sensors had been configured differently, "it's unlikely Ms Chalkley would have sustained fatal injuries".
A post-mortem examination found Ms Chalkley, who had no alcohol or drugs in her system, died from multiple injuries, including fractures to her ribs, spine, arms and jawbone.
The inquest continues.