Local authority calls for law change over 'move away' councillors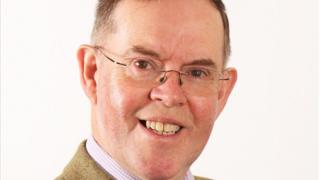 A council, where one of its members was criticised for living 400 miles (643km) away, has called for rules to remove councillors who live too far away.
Donald Adey represents Trumpington ward in Cambridge but resigned from his party after it emerged he moved to Cupar in Fife. He remains a member.
Cambridge City Council backed a motion calling for councillors to live within 50 miles (80km) of their council area.
The BBC has tried to contact Mr Adey but he has yet to comment.
Earlier this year he told The Courier he could cover constituents' needs by phone and Skype.
Legislation change
At a meeting of the full council on Thursday night, members noted the elected member remained a councillor despite "neither living or working in the city".
In a motion they called for a "change in national legislation", so that any councillor who during his or her term of office moves to a commuting distance of more than 50 miles (80km), would after six months have to leave the council.
The motion calls on the leader of the council to write to the government and Local Government Association proposing the change.
A council spokesman said the authority did not have the power itself to remove Mr Adey - who was a Liberal Democrat but now sits as an independent - for living more than 50 miles from his ward.
In May, Mr Adey told the BBC: "Electoral law is grounded in the Victorian era.
"There are many aspects which should be changed, not just how far an elected councillor lives from the area represented."
In 2015 the BBC reported the case of Suffolk county councillor Brian Riley, who insisted he could do his job despite moving almost 4,000 miles away to North Carolina in the USA. He quit in 2016.