Peterborough United to buy back stadium from council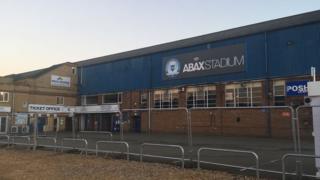 Peterborough United has signed a deal to buy back the stadium it sold 15 years ago.
The League One club and Peterborough City Council have signed a memorandum of understanding for the ABAX stadium and grounds.
In 2003 the club sold what was then known as London Road to a property developer who in turn sold it to the city council for £8m in 2010.
The two parties said the buy-back will be at a fair market price.
"We are building a better, bigger club," said Dr Jason Neale, the club's co-owner who led negotiations with the city council.
"Having control of the ground will allow us to create Championship-grade facilities and grow ancillary commercial income, both of which are critical to our longevity."
The sale is to be finalised over the next six months.
'City benefits'
Surrounding land has already been developed to create the Allia Future Business Centre, 295 zero carbon homes and space for future affordable housing.
Council leader John Holdich said: "Our city benefits both economically and socially from the club's continued success, bringing in over £7m of revenue into the city each year, boosting tourism and improving the fitness, health and wellbeing of over 1,000 children from all communities per week.
"Once the transfer of the land is complete, it will be able to make the changes needed to step up to the Championship."
The conditions in the memorandum cover investment in new and improved grassroots training facilities serving footballers from Under Fours to the senior level across Cambridgeshire, with a strong focus on Peterborough.
The club is currently second in League One, three points behind leaders Portsmouth.