Royal Papworth Hospital: April move after fire safety delay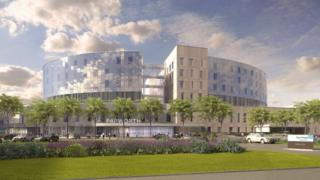 A leading heart hospital plans to move into its new building next year, once concerns over potentially flammable insulation material are dealt with.
Royal Papworth Hospital planned to move to the Cambridge Biomedical Campus and open in September.
It announced in June that contractors Skanska used insulation materials that did not meet its specifications and the move might take "a number of months".
Work to fix the issue continues, but the NHS expects to move in April.
Skanska told the BBC at the time the delay was announced there were no fire risks.
A hospital spokesman said there was a concern the insulation "was combustible", but a Skanska spokesman said the work had been signed off by building control officials.
Skanska was due to hand over the building to the trust in July, allowing a two-month training programme for staff before the new site's doors opened to patients.
The hospital is to move from Papworth Everard to the Cambridge site, 15 miles (25km) by road, where Addenbrooke's Hospital is located.
The UK's first successful heart transplant was carried out at Papworth in 1979 and the world's first successful heart, lung and liver transplant took place there in 1986.