St Michael's Gate: Peterborough council 'ignored' complaints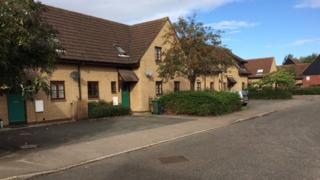 A mother has said she has to share a bed with her four children to keep them warm after a council "ignored" her complaints about temporary housing.
Nicola Wells was placed in accommodation at St Michael's Gate in Peterborough by the city council.
Other tenants voiced concerns over heating, condensation and ill-fitting windows at a council meeting on Monday.
Peterborough City Council said it took complaints raised by residents at the meeting extremely seriously.
A spokesman said it would provide "a clear plan to resolve their concerns" by the end of the month.
There are 74 homes at St Michael's Gate which are used by the council for temporary accommodation.
The houses are owned by property management company Stef & Philips, which bought the estate in 2016.
'Additional support'
Ms Wells moved in on 23 December and said the windows, doors and heating of the house all needed replacing, but her previous complaints to the local authority had been ignored.
She said the cold triggered her children's asthma, who had to have time off school. "I have the kids all in bed with me to keep warm," she added.
Labour MP Fiona Onasanya said: "It is clear after regular contact with residents there are still huge problems that need to be tackled.
"Bad cases of damp that are causing children to miss school, draughty rotting wooden window frames and more... if Stef & Philips are in breach of any legal requirements then the council must hold them to account."
A Peterborough City Council spokesman said: "We agreed by the end of October we'd come back to the community with a clear plan to resolve their concerns, primarily focused on property conditions, improving communication between the council and the residents, and the additional support needs of the residents."
The BBC has contacted Stef & Philips for a comment.