Cambridgeshire council staff forced to take unpaid Christmas leave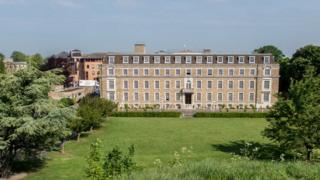 Nearly 2,000 staff at Cambridgeshire County Council will be forced to take three days unpaid leave at Christmas as it tries to save money.
The authority said it had triggered a union-negotiated clause in staff contracts to impose the unpaid leave when "financially necessary".
The council will close on 27, 28 and 31 December, saving the authority £900,000 and affecting 1,837 staff.
Unison's Rob Turner said it was "a compulsory lay-off not annual leave".
Staff earning less than £25,000 - about 3,100 of the authority's 4,937 staff - will not be affected.
All but essential services will be closed on the dates and staff affected will have their pay deducted over 12 months from November.
The council said it needs to find an additional £14.6m in savings during 2018-19, on top of cuts already agreed.
It has found £8m savings but "time is running out to find the additional £5.2m".
Triggering the unpaid leave clause and imposing a shut down will "contribute £900,000 to closing the budget gap", it said.
'Last resort'
Mr Turner, Unison branch secretary at the council, said the agreement was never intended to be in perpetuity.
He said: "The deal was negotiated in 2014, when we did not expect austerity to last this long, and was on the understanding the council would start negotiations on introducing the living wage.
"Despite numerous requests by Unison, the GMB and Unite, the council has not started those discussions."
Mr Turner said staff earning under £25,000 will have to take their leave on the same dates.
If they have used up their holiday entitlement they will have to purchase extra leave.
He said: "We call it a compulsory lay-off not annual leave - and we believe there are alternatives such as voluntary redundancy."
The council said the move was "a last resort" and was "the saving the council could otherwise achieve by cutting around 40 full-time posts".