Plans for Cambridge underground discussed 'in private'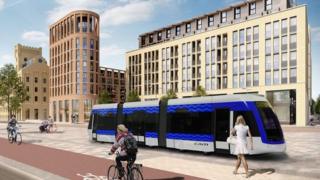 Details of major city projects - including plans for a Cambridge metro - are being discussed in private, councillors have learned.
Proposals for the £1.5bn underground system in the city were a key election promise by the city's mayor, James Palmer.
Funding for a £600,000 business plan for the metro was approved in January.
However, Mr Palmer said the privacy of partners involved in the scheme should be respected.
Read more Cambridgeshire stories
Councillors attending the Cambridgeshire and Peterborough Combined Authority's scrutiny committee heard how some negotiations about the metro have been taking place "behind closed doors", said the Local Democracy Reporting Service (LDRS).
Initial plans show the Cambridgeshire Autonomous Metro (CAM) would have 31 miles (50km) of new busways - and nearly four miles (6.4km) of tunnels.
Supporters see the system as the best way to tackle congestion in Cambridge and allow public transport to cope with a predicted rise in demand in the coming years.
However, councillor Mike Sargeant, who sits on the scrutiny committee, said he had "no idea" how far particular schemes had progressed, and that certain projects had all but disappeared from the authority's discussions.
He said: "I understand we have about 100 projects on the go at the combined authority.
"I would like to know where we are at with some of these projects. We need to see more transparency. There should be a series or definite milestones.
"Things like the CAM metro seem to have disappeared from our discussions altogether."
Mr Palmer said there were updates with projects, particularly the metro, which he "cannot wait" to make public.
"There are some things that are not for public consumption," he said.
"We cannot discuss every single issue in public. There are things going on around the metro which I can't wait to make public and, when it is time, I will make sure everyone is aware of it."