Cambridge University scientists create ancient tree ring diary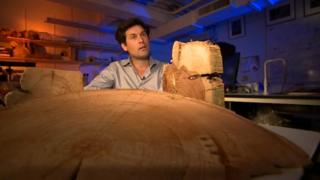 The "longest, continuous tree ring-based diary" is being created by scientists at the University of Cambridge to help map climate change.
The diary documents climatic conditions going back centuries, using trees from across the world.
Trees are weather-sensitive and their rings can give clues to rainfall, temperature and even tsunamis.
Prof Ulf Büntgen said the technique recently uncovered evidence of an ice age that started in precisely 536 AD.
It followed a cluster of volcanic eruptions that triggered a very cold period of 100 to 120 years.
By reconstructing historical climates, scientists can analyse if the recent warming is unusual.
Tree rings are as distinctive as fingerprints and the team is working with volcanologists, historians and archaeologists.
They want to discover how communities have been affected as changes in climate have coincided with plagues and mass migration.
"The biggest advantage of tree ring chronologies is their annual precise dating, so this allows us to make cross-comparisons to human history," said Prof Büntgen, head of the university's tree ring unit.
"Trees are unique in the way they form each year an annual distinct ring... so this allows us to make these continuous chronologies.
"By being able to map past climate changes over 1,000 or 2,000 years, we can ultimately improve modern predictions."
Living trees and samples from building sites, medieval churches, lakes and peat bogs are being used.
Trees - preserved for hundreds of years - have also been winched out of Scottish lochs.
"We have material for Scotland going back 8,000 years," said Dr Rob Wilson, of the University of St Andrews.
"We've got lots of gaps at the moment... we have an 11th Century gap and then we've got a lot of material for the first millennium AD."
"[Rings can reveal] earthquakes, rock avalanches, snow avalanches, tsunamis... so one can be quite creative in the different aspects of environmental change you can study with tree rings."