Felsted care home 'did not notice missing dementia resident'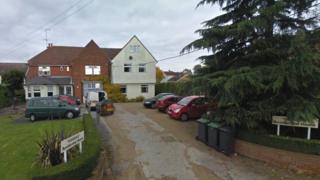 A care home which failed to notice a resident with dementia had gone missing until the police returned them has been put into special measures.
The Care Quality Commission said it found a "deterioration in the quality of care" since its last inspection of Glendale Residential Care Home.
Inspectors also discovered a bed made up with a brown-stained duvet cover in an incontinence-smelling room.
The 17-resident home, which is in Felsted, Essex, declined to comment.
Inspectors made three unannounced visits to the home in July and August, after staff notified the commission that a resident had gone missing.
The person was found by a member of the public and returned to Glendale by the police before staff had noticed the resident's absence.
A review of the resident's care records revealed no information had been included to warn staff they were a person at risk.
The inspectors also visited a room which had "a significant odour associated with difficulties managing continence" where they found a bed made up with a brown stain on the top of the duvet cover.
A previous inspection rated the home as needing improvement, but an inspection in February had found some improvements.
Yet its recent inspection found there were "insufficient numbers of staff available at all times" and "people were not protected from the risks associated with unsuitable staff being employed".
The report also highlighted "a blame culture".
Glendale Residential Care Home was rated inadequate and the Care Quality Commission will re-inspect it within six months.