Cambridge University's 'rarely-seen' 17th Century murals on show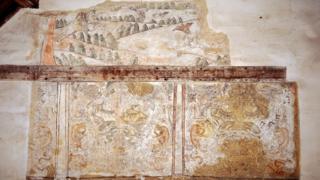 "Rarely-seen" 17th Century murals discovered behind a tapestry in an attic are to be put on public display.
The wall paintings belong to Madingley Hall, which houses Cambridge University's Institute of Continuing Education.
The hunting scenes are accessed through a narrow, spiral staircase so are not usually open to the public.
Tours of the mansion are available for the first time during Open Cambridge on Saturday.
Architectural historian Francis Woodman said the wall paintings dated to the early 1600s "and were probably inspired by Sir William Hynde, the third owner of Madingley Hall, who, like all landed gentry, was a keen huntsman".
They were discovered in the early 20th Century by another former owner, Col Walter Harding, when he removed the tapestries to see if they were worth restoring.
Dr Woodman, who has recently retired as the institute's academic director in art history and architecture, said the murals were "rarely seen".
"No-one knows who made them or why and they are possibly painted by two different hands," he said.
The murals show large, dramatic images of dogs attacking bears and chasing birds and are painted directly on to the plaster.
The hall, which is set in a 1,150 acre (465 hectare) estate just outside Cambridge, was built in 1543, but some parts of it are older than the building.
They were cannibalised from local properties, including Anglesey Abbey, near Bottisham.
Edward VII was housed in the hall when he was at Cambridge University in 1861, while Prince of Wales, and is rumoured to have used stairs near his rooms to sneak away from his books and into Cambridge to pursue his social life.