Littleport seal with fishing hook in eye found and treated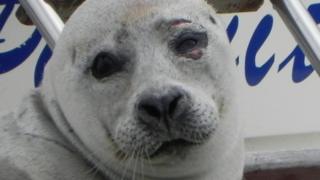 A "very lucky" seal which had a fishing hook caught in its eye in has been found and treated.
The animal had been spotted with its injury on the River Great Ouse at Littleport, Cambridgeshire on Sunday, sparking a search.
It was located on Wednesday by British Divers Marine Life Rescue (BDMLR), as first reported in the Wisbech Standard.
The BDMLR said the hook had been dislodged without human help and there was no damage to the eyeball.
On Sunday, the seal was photographed sitting on a metal grill on the stern of a boat.
Bed and breakfast owner Peter Slee-Smith said it looked either "exhausted" or "in distress" and stayed there for about six hours before leaving.
'Heal up well'
Before treatment at the scene on Wednesday, the BDMLR feared the seal "ripping its eye out" as it was unclear if the hook was in its eye or just in the flesh surrounding it.
Dan Jarvis, from the BDMLR, said: "It's one very lucky seal - it's safe, there's no damage to the eye and it looks like it [the wound] is going to heal up well.
"We're not particularly concerned for it now as long as it stays away from any more hooks."
He said the seal did not require further treatment and it had been left to swim away.
It is not clear if the hook was being used by anglers at the time, or had been lost or discarded.
Anyone finding other seals with the same injuries is asked to contact the BDMLR.
The mammal is believed to have swam 30 miles inland using the River Great Ouse.
The animal's normal habitat is on the coast, although sightings of seals in The Fens are not uncommon.