River Great Ouse fishing hook seal 'risks ripping eye out'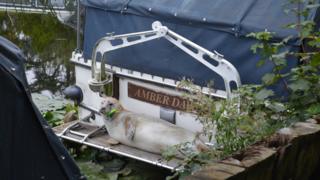 The rescue of a "distressed" seal with a fishing hook caught in the edge of its eye will be "incredibly difficult", a marine officer has said.
The seal was spotted on the back of a boat in Littleport, Cambridgeshire, in the River Great Ouse on Sunday, as first reported by the Ely Standard.
It has been seen along a stretch of the river for about a week.
It risks "ripping its eye out" if the rescue is not careful, said Dan Jarvis of British Divers Marine Life Rescue.
"If it's actually perforated the eye it's really serious and we'd need to get vets and rescue centres involved," he added.
"If it's just in the skin it can be taken out on site."
He said the seal could become aggressive during a rescue attempt and its panic response would be to "twist and spin", which would aggravate the injury further.
Mr Jarvis said the seal had been seen regularly "hanging off the back of a boat" which was not a safe place to attempt a rescue.
Littleport bed and breakfast owner Peter Slee-Smith said he was alerted to the seal by a guest on Sunday.
"The seal was sitting at the stern of the boat [on a] metal grill - which provided a platform out of the water," he said.
Mr Slee-Smith said the seal looked either "exhausted" or "in distress" and stayed there for about six hours before leaving.