St Ives police get Joanne Beaven's stolen wallet after 18 years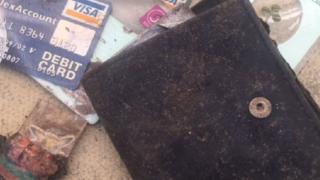 A woman has got her stolen wallet back 18 years later after it was handed to police with her driving licence along with a prized picture of Eric Cantona, still inside.
It disappeared when Joanne Beaven's handbag was pinched from a hotel in St Ives in Cambridgeshire.
A police officer said the wet and muddy item was posted through the station's letterbox on Sunday.
He traced her through the address on her then provisional driving licence.
Unsurprisingly, cash that had been inside was missing, but the dog-eared photo of retired footballer Cantona could still be seen.
"Every girl should have a picture of Eric Cantona in her purse," said Ms Beaven, aged 21 at the time of the theft in 2000.
Although her bag was found in a ditch in a park a week later, there was no sign of the wallet, which contained bank cards in Ms Beaven's maiden name of Kimpton.
She had completely forgotten about it until PCSO Phil Davis, of Cambridgeshire Police, called to say it had been found.
"I went to the postbox at St Ives police station and there was a plastic bag with the wallet inside," said PCSO Davis.
"The wallet was soaking wet with lots of mud in it but fortunately there was a driving licence in there with an address, so I went round to see if the owner was still there."
You may also like:
A note pinned to the bag said it had been found in a ditch in the same park where Ms Beaven's handbag was found 18 years earlier.
"It was a bit of a shock for my mum when a policeman knocked on her door, particularly when he said he'd found my driving licence, "said Ms Beaven.
"I think she was more concerned that I was in a ditch somewhere."
The wallet is "pretty gross and it doesn't smell very pleasant - like damp dog," she said.
"I was quite surprised to get it back to be honest, but it's lovely that the police took the time to find me as obviously they've got a gazillion other things to do with their day."