St Neots vodka and Pimm's masked robbers jailed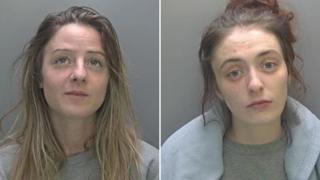 Two women who threatened a shop assistant with a BB gun and knife before making off with vodka and Pimm's have been jailed.
Chantelle Stevenson, 29, and Laura Robinson, 24, covered their faces before entering a Londis shop in St Neots, Cambridgeshire on 9 June.
Both women pleaded guilty to robbery. Robinson was jailed for four years at Peterborough Crown Court.
Stevenson was jailed for four years and eight months.
Robinson, of Samuel Jones Crescent, Little Paxton, and Stevenson, of Kimbolton Road, Hail Weston, entered the shop on Naseby Road in the Eynesbury area of St Neots at about 09:00 BST.
Stevenson jumped over the counter, banged the gun on the till and demanded it was opened.
'Terrifying experience'
The shop assistant claimed not to know how and managed to flee, raising the alarm at a hairdresser next door.
The women stole the alcohol before driving off in a Vauxhall Astra, but the staff member made a note of the number plate and gave them to the police.
Officers found Stevenson and Robinson in the car in a Tesco Express carpark on Great North Road, Eaton Socon, later that morning.
The BB gun was in Stevenson's waistband and the knife and alcohol were in the car.
Det Con Karen Lunn from Cambridgeshire Police said: "This was a terrifying experience for the member of staff but her quick thinking enabled her to get out of the premises to safety.
"Noting the registration plate also undoubtedly helped to apprehend Stevenson and Robinson."
Robinson also pleaded guilty to possession of a knife in a public place, for which she was sentenced to eight months to run concurrently.
Stevenson also pleaded guilty to possessing an imitation fire arm, for which she was sentenced to one year and three months to run concurrently.