Boy fishes mortar shell from Cambridge river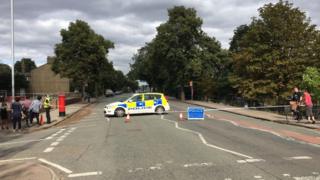 An 11-year-old boy magnet fishing during his summer holidays managed to net an unexploded mortar shell.
Monty Greenway sparked an Army response when he found the device near his home in Cambridge at about 14:15 BST.
Monty alerted his father Guy Greenway who told him to "put it gently down and walk away".
Mr Greenway then rang the fire service and said his son would "eat out on this for the rest of his life". The bomb was disposed of by 18:00 BST.
Monty and his brothers had gone fishing on the River Cam near Jesus Green after finishing lunch.
He said: "I had already pulled up a metal bar and threw the cord with the magnet on in again to the middle of the river.
"I let it sink to the bottom, pulled it up and said 'Daddy, I've got a mortar shell on the end of my cord'."
You may also like:
His father, who works in construction, called the find the "magic of magnet fishing".
"This is real 'Boys' Own' stuff for any child of his age", said Mr Greenway.
"Thankfully he's unharmed but he's going to eat out on this story for the rest of his life."