Ely derailed train: Carriages were due in for a service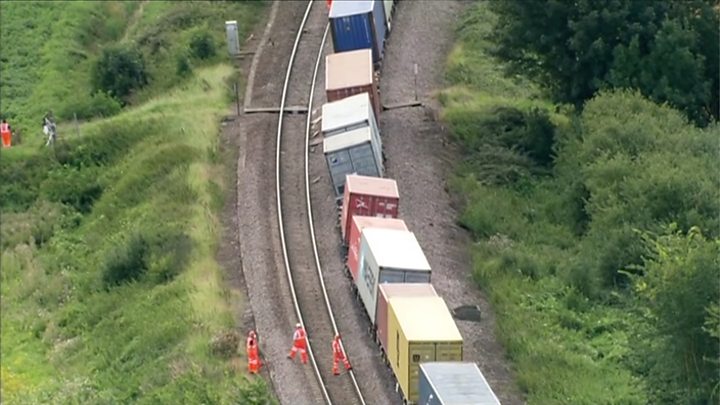 An investigation into a freight train that derailed in Cambridgeshire has recommended that wagon maintenance be improved.
The Rail Accident Investigation Branch (RAIB) blamed the damping system on the flat wagons for the accident.
Twelve wagons came off the tracks at Queen Adelaide, near the Ely North junction, on 14 August last year.
It disrupted passenger services from Peterborough and Cambridge to Stansted Airport and London for days.
The train had been travelling from Felixstowe to Doncaster when it derailed at approximately 14:20 BST. No-one was injured.
It was doing 41mph at the time it derailed and continued to run for around 350m, causing "significant damage" to the track.
The RAIB report found the 33 wagons had been repaired in 2010 and were due for their next service the year of the crash.
It said the company responsible for the work "did not appropriately validate the maintenance specification to ensure continued safe operation" until then.
The report confirmed that all of the damping components on the fleet of wagons had since been replaced.
It also recommended that repair limits quoted in guidelines by manufacturers "should not be used as maintenance limits" and called for those in charge of train safety to have a "validated system of maintenance in place".