Stolen Cambridge US cemetery eagle returns 25 years after theft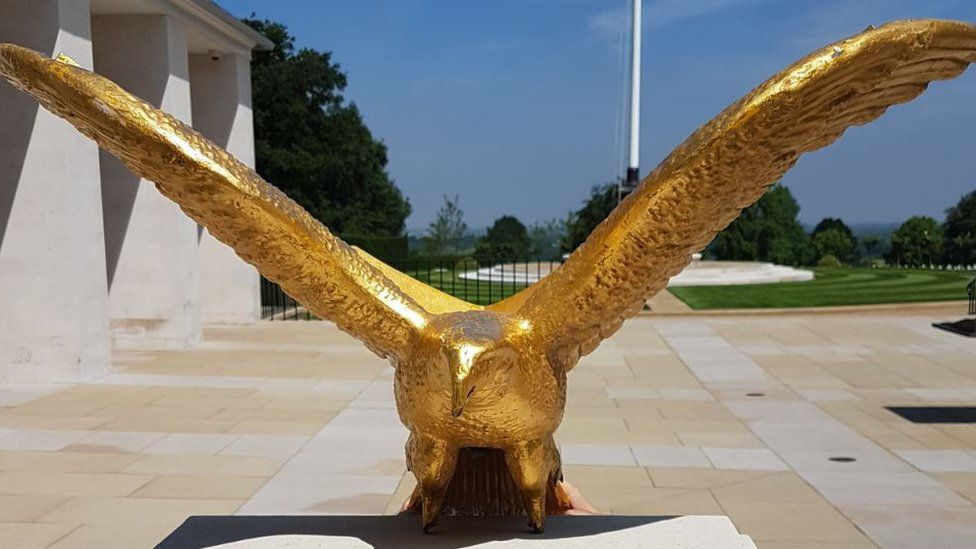 A golden eagle stolen 25 years ago from a flagpole at a US war cemetery near Cambridge has mysteriously returned.
A thief took the painted cast iron eagle from the 72ft (22m) pole in Madingley in 1992, leaving only its talons still attached.
On Thursday it was found at the front gate. CCTV showed it being returned at 01:00 BST which was "still Independence Day in the US", staff said.
The person who left it was seen taking a photo of it before driving off.
The mystery 1992 birdnapper scaled scaffolding which had been put up on the pole at the time for renovation work.
Although police investigated, the case remained a mystery.
The eagle had topped the pole since the Cambridge American Cemetery was officially opened in 1956 as a permanent memorial to almost 9,000 UK-based American servicemen and women who died in World War Two.
After its theft, the eagle was replaced with a new design and staff gave up ever finding the original.
However, when the security guard arrived on Thursday, he found the eagle perched on the gatepost.
He checked the blurred CCTV images which showed a car pulling up, a person placing it there, taking a picture, then leaving.
The eagle was in "very good condition" other than the damage to its feet caused during the theft, which staff still think was "probably just a prank".
"Wherever he was stored, he was well looked after as he is still nice and shiny," administrator Tracey Haylock said.
"Maybe someone was having a clearout and had a pang of guilt and thought it should be returned.
"We've had a laugh that it would have still been Independence Day in America when it was brought back, but that's probably just a coincidence."
The cemetery, which does not intend to pursue the case further, hopes to display its "re-landed eagle" somewhere on the site, she added.
Related Internet Links
The BBC is not responsible for the content of external sites.