King's College racism row: Students support academic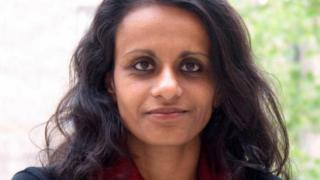 Cambridge University students have rallied behind an academic who said racism at one college is "widespread".
Priyamvada Gopal claimed porters at King's College frequently "hassled" non-white staff and students at the gates, amounting to "racial profiling".
Since posting about the issue, current and former students have said they had similar experiences.
A university spokeswoman said it "abhors racism" but its investigation found no wrongdoing by staff.
The lecturer hit the headlines earlier this week when she said porters at King's had repeatedly refused to use her academic title of "Dr" and had spoken to her in a harsh and sarcastic tone.
She described the incident as a "small issue" but said it was "symptomatic of a wider problem" at the university.
"They will let white people walk through unimpeded but demand ID cards from people who are not white," she said.
"We had two students who came crying late to class because they were hassled at the gates of King's and I've never had a white student who's had this problem."
"Do I have 100% proof that it is racism? No. But one can only look at the fact people of colour are carded frequently or asked more questions frequently."
The academic, who specialises in post-colonial literature, announced in a Twitter post that she would be be refusing to supervise any students at the college in protest.
Among the many messages of support for her on Twitter, one former King's student said: "The porters liked to throw their weight around when they suspected someone shouldn't be allowed through the gates, but inevitably that suspicion didn't fall equally."
Another said: "If King's College is to be a 'dynamic & diverse community' it must take Dr Gopal's concerns seriously."
Several posts were from people from ethnic minorities who said they had experienced similar treatment: "I was constantly stopped by Cambridge porters to show my ID, to explain where I was going."
The role of university porters includes controlling entry to buildings and often maintenance and other administrative tasks.
'Abhors racism'
A spokeswoman for the University of Cambridge said: "King's prides itself on being an inclusive and tolerant place, where students and staff of all backgrounds can feel secure, so we will always act swiftly and proportionately to remedy any wrongdoing.
"The college abhors racism or discrimination of any kind and would seek to stamp it out wherever it might be found.
"However, having conducted a thorough investigation of the events of Monday, we have found no wrongdoing on the part of our staff.
"Approximately 700,000 people pass through King's every year, and we receive fewer than three complaints annually.
"We have reviewed all complaints over the past three years and confirm that, where we have found our staff to be at fault, we have taken action."