Rapist attacked HMP Littlehey female prison officer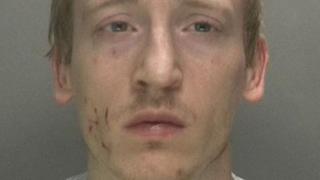 A man who was convicted of raping a member of hospital staff has admitted trapping a female prison officer in his cell and attacking her.
Liam McCarthy, 28, grabbed the officer by the throat and barricaded her in his cell at HMP Littlehey in Cambridgeshire, on 9 January.
Guards forced their way in and found him shirtless on top of the woman.
He has now had two years and eight months added to his sentence for false imprisonment and actual bodily harm.
Appearing at Peterborough Crown Court on Tuesday via video link from HMP Wakefield, where he was moved following the assault, he pleaded guilty to both the charges.
McCarthy was jailed for 12 years for rape in 2016 after, as an out-patient, he followed a female member of staff at Birmingham City Hospital into a staff toilet and attacked her, threatening to kill her if she cried out.
The prison officer he attacked had only recently completed training and the assault occurred during a routine cell check at the jail.
McCarthy used a wardrobe and other items to barricade her into his cell after choking her.
It is believed that at some point during the assault she lost consciousness or was knocked out.
The officer was treated for bruising by medical staff at HMP Littlehey - which holds about 1,200 male inmates, mainly sex offenders and rapists.
Det Con Tom Nuttall, from Cambridgeshire Police, said: "This vicious attack could have continued had the victim's colleagues not intervened."
McCarthy was sentenced to an extra 32 months in jail for falsely imprisoning the officer, to be served consecutively to his current jail term.
He was sentenced to 12 months for assaulting the officer, causing her actual bodily harm, which is to be served concurrently.