No further action over Peterborough City Hospital doctor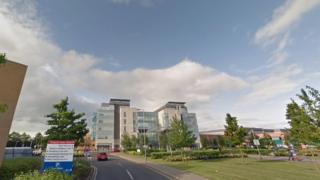 No further action will be taken against a hospital consultant who was interviewed over two patient deaths, police said.
Dr Andy Gregg, 48, who works at Peterborough City Hospital, had been arrested on suspicion of gross negligent manslaughter.
Police said after an inquiry and advice from the Crown Prosecution Service (CPS) no further action will be taken.
Dr Gregg has always denied the allegations.
The consultant anaesthetist is no longer required to answer bail, said a police spokesman.
"The matter will be referred to the General Medical Council," he added.
The accusations were contained in a High Court judgment for a case regarding pay the doctor won against his employers.
Court judgment
According to the judgment, on 4 January 2016 Dr Gregg took over as the relevant consultant in the case of a man with leukaemia.
Sedative and painkiller doses were increased and the patient died two hours later, the judgment said.
The police were informed and Dr Gregg attended an interview, but the CPS advised against charging him.
The judgment said the trust then became aware of a second patient who suffered a serious heart attack and came under the care of Dr Gregg.
He was sedated and died within four-and-a-half hours. Dr Gregg was arrested but has now been told there will be no further action.
The court ruled in January that North West Anglia NHS Foundation Trust, which runs Peterborough City Hospital, could not stop paying Dr Gregg or start its own disciplinary process until the CPS had decided whether to prosecute him.
Kanchan Rege, medical director at North West Anglia NHS Foundation Trust, said: "While it has been confirmed that no criminal charges have been brought, investigations are still being carried out by the General Medical Council and there is an internal procedure to follow within the Trust. Dr Gregg will not return to work at this time."
In a statement to the BBC, Dr Gregg said: "I am disappointed that it has taken so long to reach a conclusion, but am pleased that the police investigation is now at an end, and that no further action is being taken. I have always maintained that I acted in a clinically appropriate manner and in the best interests of my patients.
"I am extremely grateful for the wide expressions of support which I have received from many different sources, and I now look forward to a time when I may once more resume practice."