Complaints over officer and Lush 'spy cops' poster removal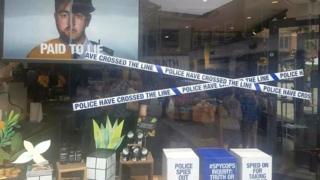 Police received complaints as a display criticising the so-called UK "spy cops" scandal in a branch of Lush was removed after an officer had a "polite word".
The cosmetics company was heavily criticised last week for the campaign.
Off-duty PC Paddy Reeve tweeted how he went into the Peterborough branch to talk to staff after seeing the poster.
Cambridgeshire Police said it received five complaints about the intervention. Lush said displaying the posters was "at the discretion of the manager".
Mr Reeve tweeted: "As a result of me visiting Lush, Peterborough, their terribly misleading marketing campaign was removed from their window.
"It was an 'off duty' visit. All perfectly polite, in both directions," he added.
His post was retweeted by Liz Groom, chair of the Cambridgeshire branch of the Police Federation, who said PC Reeve had spoken to the shop staff "as a customer and citizen and didn't make them remove it".
The off-duty officer, who was not in uniform at the time, was "not abusing his position", she said.
Cambridgeshire Police said five complaints had been made about his post and the Police Federation's support for it.
A police spokeswoman said: "The officer expressed his personal concern about the display and how the campaign had upset him and his family and asked if the manager would pass his comments and feedback on to her management.
"At no point did he tell or ask the member of staff to remove the display."
Despite strong criticism of the campaign on social media, Lush says it is highlighting "the ongoing undercover policing scandal, where officers have infiltrated the lives, homes and beds of activists".
A spokeswoman for the company said it was down to the "discretion of the manager" whether they used the campaign material or not.
However, she added: "Whilst intimidation of our shop staff from ex-police officers and unhelpful tweets from those in high office are ongoing, not all of our shops feel able today to have the campaign window in their shops.
"However, the campaign is still running for three weeks and we will be constantly weighing up what to do about the situation."
Cambridgeshire's Conservative Police and Crime Commissioner, Jason Ablewhite, said he was aware of the incident and had "sought reassurance from the constabulary about what took place in the Peterborough store".
"Whilst private companies have the right to express their opinions, members of the public are also entitled to voice their views," he said.