Abdul Korim Ali murder of James Cromwell 'could have been a punch up'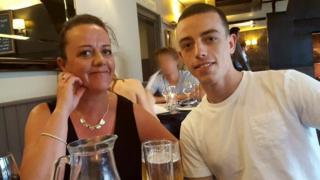 A fight between childhood friends that ended in murder could have just been a "punch up" had a knife not been carried, a senior police officer said.
James Cromwell, 27, died from a single stab wound to the heart from Abdul Korim Ali in Cambridge on 30 June.
Ali, whom a court heard was a "habitual" carrier of knives "just in case", was jailed for life in January.
"When you carry a knife it's a very easy step when you get in an argument to use it," said Det Insp Alan Page.
"If [Ali] hadn't had a knife this probably would have been a punch up. Instead it has had a lifetime impact on him and his family.
"His actions have stolen James's life as he was just entering the prime of his life."
More on James Cromwell's murder
The pair had been at primary school together but had a confrontation on Darwin Drive - where Ali lived - over drug supply.
Cambridge Crown Court heard the stabbing was a "spontaneous act arising out of anger" and Mr Cromwell collapsed "literally bleeding to death" in a nearby street.
Ali confessed to the murder in a phone call to Mr Cromwell's brother Luke and was labelled a "hypocrite" for leaving flowers at the scene of his victim's death.
Ahead of a Channel 4 documentary about the Bedfordshire, Cambridgeshire, and Hertfordshire Major Crime Unit investigation, Det Insp Page said it was made difficult because there was a "very reluctant key witness" who was with Mr Cromwell at the time.
"I think he was scared and had a bit of loyalty to the offender because the families knew each other. He had been friends with the suspect all his life," he said.
Det Insp Page added he felt no sympathy for Ali but did "feel sadness that one young man has lost his life and another is going to be in prison for a considerable amount of his".