Stoke paedophile caught in St Neots with cheerleader outfit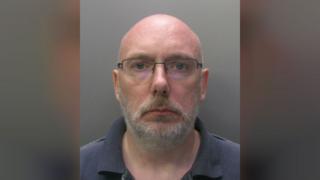 A paedophile drove more than 100 miles with a cheerleader outfit in his car in order to have sex with a 10-year-old.
Michael Bickerton, 49, of Stoke-on-Trent, drove to Cambridgeshire after making arrangements on a website, but was arrested on arrival.
A jury at Peterborough Crown Court found him guilty of arranging or facilitating the commission of a child sex offence.
Bickerton was sentenced in Cambridge to eight years in jail.
Cambridgeshire Police said Bickerton came to their attention after using a website to chat to people, where he expressed a liking for "children from the age of eight".
'Sex-related paraphernalia'
After swapping messages, he travelled 130 miles (210km) from his Minshall Street home to St Neots with the intention of meeting a 10-year-old girl.
When Bickerton arrived at the meeting place on 26 August he was arrested and "sex-related paraphernalia" was found in his car, police said.
This included a cheerleader outfit, Viagra, lubricant and a mask.
"Bickerton denied he had any intention of meeting a girl, that he believed the girl to be fictitious and was instead planning on meeting another man for sex," Det Sgt Kath McCready said.
He told officers messages and conversations about sexually abusing children were "merely fantasy".
Bickerton denied one count of arranging or facilitating the commission of a child sex offence but a jury took just two hours to return a unanimous guilty verdict at Peterborough Crown Court on 22 February.
During his sentencing on Monday, Judge Sean Enright said Bickerton had an entrenched sexual interest in children, which was reflected in his sentence.