'Skype councillor' wants electoral change after moving 400 miles away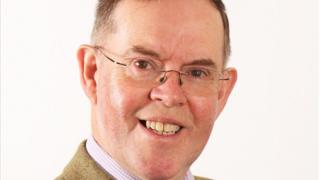 A councillor who lives 400 miles from the ward he represents has said electoral law is "grounded in the Victorian era".
Donald Adey represents Trumpington ward in Cambridge but resigned from his party last week after it emerged he moved to Cupar in Fife.
The former Liberal Democrat member will continue to stand as an independent on the city and county council.
He told The Courier he could cover constituents' needs by phone and Skype.
Mr Adey told the BBC: "Electoral law is grounded in the Victorian era.
"There are many aspects which should be changed, not just how far an elected councillor lives from the area represented."
He also denied any intention to stand for election in his new home town which is a seven-hour train journey from Cambridge.
Mr Adey was in Cambridge on Tuesday for a full county council meeting on a range of topics, including a potential move from its premises at Shire Hall.
He said he had made the journey to Cambridge on a train ticket he had personally paid for.
The Lib Dems said that before his resignation they were considering withdrawing the whip from him for moving so far away from the largest ward in the university city.
The party leaders on both the city and county council also asked Mr Adey to consider standing down from both councils.