'Extreme danger' driver jailed for St Ives police chase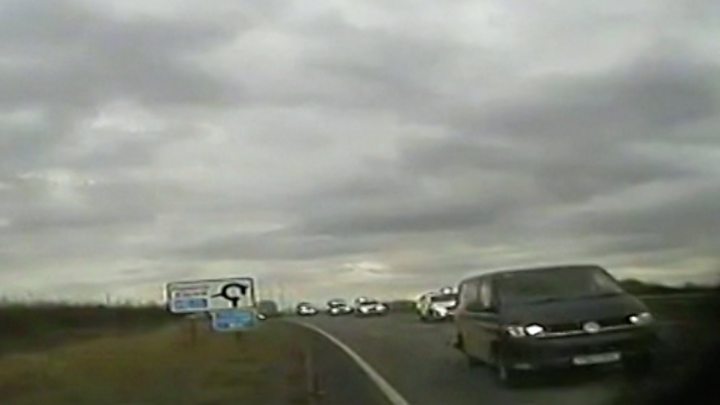 A man who led police on a 45-minute high-speed car chase has been jailed for two years by a judge who described him as "an extreme danger".
Michael Elmstrom 34, of St Ives, who admitted criminal damage, dangerous driving and sending malicious texts also drove at a police officer.
Police followed his car after receiving a call from his ex-partner who had been threatened by Elmstrom.
The pursuit saw Elmstrom mount a kerb outside a school at home time.
Cambridgeshire Crown Court heard on 6 March, Elmstrom's ex-partner called police to say he had threatened to shoot her horse, ruin the lives of people close to her and smash up her car and windows.
The couple had split up four days before and she had reported Elmstrom had sent her threatening text messages, one of which said if police got involved there would be a "blood bath".
PC Sam Thompson was out on patrol in an unmarked vehicle in the St Ives area when the call came in to find and arrest Elmstrom.
The officer spotted him driving a blue Volkswagen Transporter van near to Hemmingford Grey and followed, notifying the force control room who deployed an armed response unit.
Elmstrom ignored signals to pull over and a 45-minute pursuit followed around the St Ives area.
The court heard he reached speeds of between 50mph outside a school and 100mph on the A14.
At one point when the officer stopped his van to get a stinger device from the back, Elmstrom drove at him before swerving away at the last moment.
The officer told the court he thought to himself, "this is it, I'm dead".
Lead investigator, PC Emma Holmes said: "He had no regard for anyone's safety, exceeding speed limits and also mounting a kerb outside a school when the children were due to be coming out."
It took two stinger attempts to stop Elmstrom, who was finally arrested on the A1198 Papworth bypass after the device punctured his rear tyre.
As well as a two-year jail sentence, Elmstrom was also disqualified from driving for two years and 10 months.