Football rules' Cambridge 'birthplace' marked by sculpture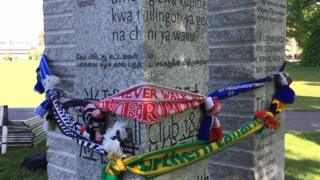 A sculpture to mark the "birthplace" of the first set of football rules has been unveiled.
Cambridge University students first posted rules for the game on Parker's Piece in 1848, with elements later adopted by the Football Association.
A granite sculpture inscribed with the original rules in seven languages is due to go on display.
Co-sculptor Neville Gabie said it "marked Cambridge and acknowledged that football has become a global language".
It is said the original rules for the game were developed by students playing on Parker's Piece, a common near the city centre, leading to claims that Cambridge is therefore the birthplace of the game.
An existing plaque on the common celebrates how the "Cambridge Rules" became the "defining influence on the 1863 Football Association rules".
The new sculpture was created from a 10-tonne block of stone split into nine different bases, four of which will be displayed on Parker's Piece and the others placed across the globe.
Locations include a favela in Rio de Janeiro, Brazil, where a young women's football team play, and Chennai, India, near a hostel for abandoned children.
Mr Gabie, a Forest Green Rovers season ticket-holder, said: "While I want to mark the birthplace of modern football I also want [the sculpture] to be about people's experience of football around the world as something which can really provide a social good."
Fellow sculptor Alan Ward said the £150,000 project, funded by developers, would take "a little bit of Cambridge" to those places.
Mr Ward, a Norwich City fan, said: "When this project came up I think what we found so fascinating was it was this small part of land in Cambridge where the rules were written and passed around the world."
A website, Cambridge Rules 1848, was launched to ask for people's football stories from around the world.