Museum seeks Pye creator of 1973 handmade toolbox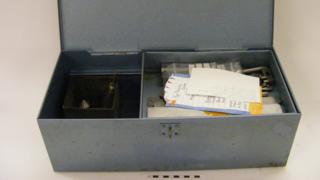 A museum is trying to track down an apprentice whose tools and toolbox from 1973 have been discovered.
Cambridge Museum of Technology is planning an exhibition dedicated to electronics company Pye, which was famed for early radios and televisions.
It wants to trace the creator of the toolbox, which is engraved "TJ Benton".
Assistant curator Morgan Bell said the handmade items required "great skill" to make.
The museum, which will reopen early next year after a renovation, wants to highlight the work of Pye and will feature some of its key products - such as the C17 TV.
The set cost the equivalent of £2,000 when it was unveiled in 1957 and Ms Bell said it needed "two strong people or three regular people" to carry it.
Ms Bell is keen to trace TJ Benton to add his story to the exhibition. However, no contact details or further information was provided when the toolbox was donated to the museum.
"TJ Benton made every part of the tools and the toolbox, down to the hinges, and they took great care to chisel his name or initials into their work," Ms Bell said.
"It is a testament to the great skill of the Pye apprentice that they are still in good condition and undoubtedly functional 45 years later.
"When many people think of Pye, they think of the innovative TVs and radios that the company produced.
"However, one of the aims of the museum's redevelopment project is to bring out stories of the people behind the technology too."
Pye was set up in Cambridge in 1896 and at its peak had about 30,000 employees worldwide - 10,000 based in the city.
It has since become part of the Phillips group. Other former Pye employees have been traced and spoken to for the museum's exhibit.
A slice of Pye
Founded in Cambridge in 1896 by William Pye in the tin shed on his parents' back garden
Created some of the earliest wireless receivers for radio transmissions in the 1920s
Helped make wireless equipment during World War Two
Marketed a nine inch TV set when the BBC first broadcast in 1936
By 1949 it claimed it was the "largest TV manufacturer in Britain"
Sold to Philips in the 1970s
The redevelopment of the museum, which has been closed since early 2018, is being funded by the Heritage Lottery Fund, Historic England, WREN and donations from the public.