South Cambridgeshire Lib Dems take power in from Tories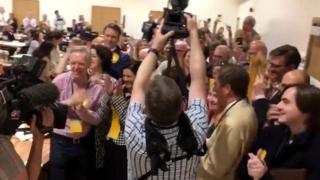 The Lib Dems have taken control of South Cambridgeshire District Council from the Tories in a surprise result.
At the end of the count the Lib Dems had an unexpected 28 seats, with the Conservatives on 11 and Labour and Independents each on two.
The authority has been electing a full council after boundary changes altered the population make-up of many wards.
Local Conservative MP Heidi Allen said national politics had played a part in the campaign this year.
"My hunch from constituents' emails this year that this is a heavy remain area and people are very concerned about Brexit and are expressing a view even if national politics have nothing to do with local elections," she said.
Bridget Smith, leader of the Lib Dem group on the council, said Brexit appeared to influence voters.
"I'm pretty sure that next year is ours and for the first time Liberal Democrats are winning in areas that voted out.
"People want liberal politics that put the heart back into local communities and they want people who work hard and do a good job."
In the rest of the county the Conservatives have taken control in Peterborough and Labour have retained Cambridge.