Local elections 2018: Tories take control of Peterborough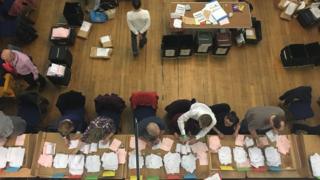 The Conservatives have taken control of Peterborough City Council in the local elections.
The council had previously been under no overall control.
The Tories held four seats, gained two wards from Labour and one from UKIP, and lost one to Labour and one to the Green Party.
Labour held four wards, lost one to the Lib Dems and gained one from the Liberal Party, which held two wards. The independents held one ward.
John Holdich, leader of the Conservative group and the council, where he led a minority administration, said: "I am absolutely delighted we gained overall control of the council.
"People realise we have had very difficult circumstances when it comes to finance and we have handled it very well."
Fiona Onasanya, Labour MP for Peterborough, said: "I think this election result has shown that there is still more to do.
"This is not a message against Labour. I think we have the policies of hope."
She said she believed in the Labour leader Jeremy Corbyn: "I would not be part of the Labour Party if I did not believe in his vision. I think things will improve for Labour."
In Cambridge, Labour held onto the council.
Labour held nine seats, gained one from the Lib Dems, and lost one to the Lib Dems.
The Lib Dems have held on to three wards and won a seat from UKIP.
Lib Dem leader Tim Bick said losing Trumpington to Labour was "disappointing" but said he was pleased the Lib Dems ended the night with more seats.
"This is the first time we've been able to say that for several years now," said Mr Bick.
Labour leader Lewis Herbert said he was "shocked and surprised, but in a great way" that Labour won Trumpington for the first time since 1945.