WW1 leaflets commemorate killed Hinxton soldiers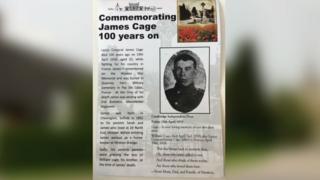 Eight men who lost their lives in World War One are being remembered in their home village on "commemoration pages" posted through residents' doors.
The soldiers are named on the war memorial in Hinxton, near Cambridge, but one man - who wishes to remain anonymous - thinks that is not enough.
On the 100th anniversary of each soldier's death he tells their story and includes a photo on the leaflet.
He said he hopes it will inspire people to remember and "doff their caps".
The leaflet creator, a keen local historian who wants to remain anonymous, said he began thinking several years ago about how he might commemorate the 100th anniversary of the end of World War One.
He decided to mark the death of each soldier on the village memorial with a short tribute page, which he posts through the door of every home - in excess of 150 - in the small village.
The leaflets arrive the day before the 100th anniversary of each man's death.
Last month villagers received details about L/Cpl James Page, who died aged 25 in France on 19 April 1918 and is buried in Quesnoy Farm Military Cemetery in Pas de Calais.
It includes a tribute from his parents, who lived in Hinxton, which was published in a local paper in the days after his death:
"This day brings back in memory dear,
Oh, those who were called to rest.
And those who think of them to-day,
Are those who loved them best."
It was the latest in a series of leaflets commemorating those who died between 1914 and 1918, and there is one more to come in October.
The man says he hopes it reminds villagers of those that "gave so much".
"The people on the memorial are heroes, really," he said.
"But people are beginning not to relate to the memorial. They were our neighbours - we'd have known them - but now they are just names on a stone."
If his remembrance campaign does nothing else, he said he hoped people might at least "doff their cap" as they pass the memorial.